The Scream Queens of Film: Shannon Elizabeth
January 20, 2013
CLICK HERE TO RETURN TO THE SCREAM QUEEN INDEX PAGE
In high school, Shannon Elizabeth (5'9″; born in 1973; Houston, Texas) did all of the things that guys hoped she would: tennis, ballet, cheerleading.  After high school she traveled the world working as model.  But what she really wanted was to be an actress.
After some TV episodes and minor movies she landed her first major role as Nadia in American Pie (1999).  While most famous for this role, which recurred through the franchise all the way to American Reunion (2012), she found other roles, even leads (e.g., Tomcats).
Shannon Elizabeth and Anna Faris in Scary Movie.
But for me, other than Nadia, I know her best from her horror roles:  Night of the Demons (2009), Cursed (2005), The Twilight Zone (2002), Thirteen Ghosts (2001), Scary Movie (2000) and Jack Frost (1997).  It seems that since 1997 she does one horror flick every four years.  This makes me look forward to 2013.
 Jack Frost getting a little fresh with young Shannon in the shower.
Here, Shannon shows us she knows how to have fun as she is made up as the demon party hostess Angela, in demon form, chowing down on a frat guy.
But why doesn't this beautiful, capable actress get more work?  You can tell me that she was annoying in Cursed but hey, reality check, she was playing a twentysomething who was willing to consult a carnival fortune teller for relationship advice.  I'm pretty sure any such girl would be "annoying."  So, it sounds to me like she did her job perfectly.  And oh, she didn't "wow" you?  Well just what about that role was suggestive that she would?
This woman is gorgeous as she nears forty and can play much younger roles if needed.  Folks, give her more work!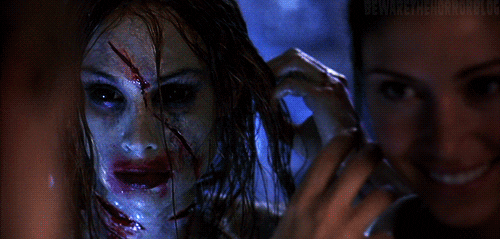 Showing off her looks in front of a self-loathing catty ghost in Thirteen Ghosts.
Such a creepy scene!
Here's ten reasons that Shannon Elizabeth is hotter than whatever other chick got the job:
1.  Shannon is part Syrian and Lebanese.  I know nothing about these countries.  But that sounds hot to me.
2.  Did you see American Pie?
3.  She was trained in Krav Maga.
4.  Voted 8th Sexiest Female Movie Star in the Australian Empire Magazine in 2002.
5.  Have you seen what this chick looks like?
6.  Bowling for Soup's extended version of "Ohio (Come Back To Texas)" mentions her.
7.  She posed for Playboy magazine in 1997 and 1998.
8.  Ranked #29 on the Maxim magazine Hot 100 in 2008.
9.  She was on Dancing with the Stars (2005).  Only hot people get to be on that show!
10. She was a ballerina and a cheerleader and a model!