MFF Special: Dolph Lundgren is Really Good in Universal Soldier
January 31, 2020
By 1991, Dolph Lundgren was already a worldwide action movie star with movies like Rocky IV, Masters of the Universe, Red Scorpion, The Punisher and Showdown in Little Tokyo (watch this clip now) under his black belt. The problem was, none of these films let him string together more than several lines at a time (he only had nine lines in Rocky IV). His thick Swedish accent, scared off many writers from giving him showstopping monologues, and his roles largely relied on his large frame and ability to punch or front-kick stuntmen into oblivion.
That's where Universal Soldier writers Richard Rothstein, Christopher Leitch and Dean Devlin come into play. They weren't afraid to give the brilliant Swede a monologue in their bonkers action film, and in 1992, the Fulbright scholar, who had a Master's Degree in Chemical Engineering from the University of Sydney, proved to the world that he could break any dialogue given to him. Here's a transcript of the monologue from The Roland Emmerich directed (Independence Day, Midway) Universal Soldier.
"God damn it the whole fucking platoon's dropping like flies! What the hell are you staring it? Do you have any idea what it's like out there? Do you? Well I'm fighting this thing man, it's like kick ass, or kiss ass, and I'm busting heads! It's the only way to win this fucking war. And these shitheads, these yellow traitoring motherfuckers. They're everywhere. And I, Sergeant Andrew Scott of the US Army, I'm gonna teach 'em all."
Right now, you are probably thinking "huh?" and did he really say "yellow tratoring motherfuckers?" Well, considering the movie is about two soldiers who killed each other in Vietnam, and resume their battle in 1992, after they've been Frankensteined into super-soldiers, the dialogue makes sense. Dolph's character, Andrew Scott, suffered a mental break in 1969, went on a homicidal rampage, and was killed by Jean-Claude van Damme's character Luc Deveraux (who also died in the fight). Years later, after being turned into Unisols (universal soldiers), the two go on a rampage and try to kill each other again. During one of their skirmishes, several of the red-shirt Unisols are injured and Scott drags them into a supermarket freezer to heal (ice or freezing temperatures heal their wounds). While in the supermarket, he unleashes the unexpected speech that you read above, and we're fairly certain it confused/enthralled everyone in the audience who had never heard him string that many sentences together.
Take a look at his expression when he leans in towards the man with the cowboy hat. The quick look to the side and raised eyebrows are inspired and more than anyone expected.
After he says "They're everywhere" Dolph's body language is excellent as he slowly turns, and skulks away with hunched shoulders. It's the body language of a Frankensteined-super soldier who still thinks he's in Vietnam and is monologuing to a captive audience inside a rural supermarket.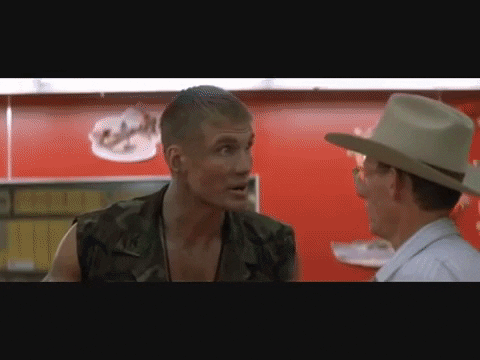 Soon after, several unlucky officers run into the store and are killed by Scott. This is how he caps off the murder spree.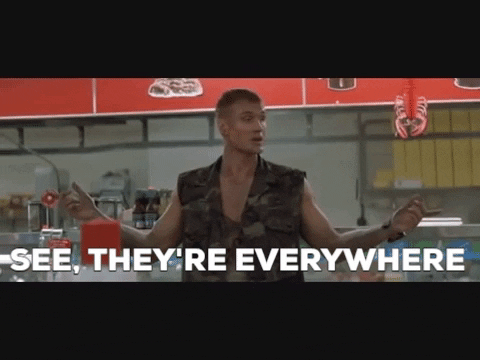 You can tell Dolph loved this moment and he did he best to create a nuanced and well-acted moment in a bonkers action film. Compared to JCVD's work, Dolph deserves an Oscar.