Army of the Dead: A Fun Idea Weighed Down By Too Many Subplots
May 23, 2021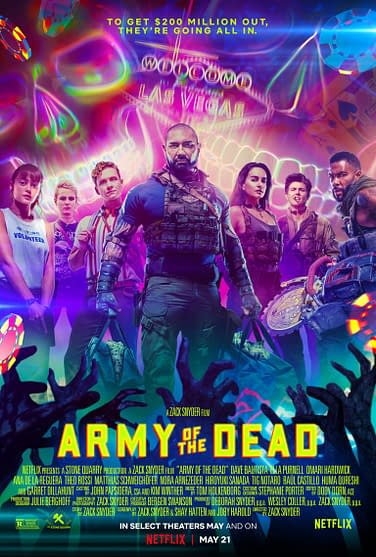 Quick thoughts – C – Army of the Dead starts off wonderfully, but too many subplots, lots of meandering, and odd decisions make it a slog to watch. 
On paper, Netflix giving Zack Snyder $70-$90 million to make a zombie epic was something to be thrilled about. Why? Since it's a Netflix film, Snyder would have the final cut, and space to make the movie that he wanted to make. Also, Snyder kicked off his feature film directing career with 2004's Dawn of the Dead, a fun remake of George Romero's classic that featured a killer soundtrack, solid cast and fast zombies who added new wrinkles to the zombie genre. The 101-minute film is lean and mean, and it's so good that it made fans of Snyder's work super excited about a new zombie movie.
Army of the Dead focuses on what happens when the payload of a military convery escapes, and turns Las Vegas into a zombie-ridden hellscape full of smart zombies, tiger zombies, and slow zombies. Viva Las Vegas it ain't, and the opening 15(ish) minutes of the film showcase thrilling action scenes involving Scott Ward (Dave Bautista), Maria Cruz (Ana de la Reguera) and Vanderhoe (a scene stealing Omari Hardwick), escaping the initial outbreak and laying waste to any zombies that are foolish enough to step in their way. Their heroics end with them saving a high ranking military official, which puts them in the crosshairs of billionaire mogul Bly Tanaka (Hiroyuki Sanada). With the city about to be hit by a nuclear strike in a couple days, Tanaka offers Ward $50 million to enter the city and grab the $200 million that Tanaka has sitting in one of his casinos.
Army of the Dead, starts off with a bang, and continues with a fun montage featuring Ward and Cruz putting together a team of zombie fighters who will help them sneak in Las Vegas, crack a safe, carry thousands of pounds of cash to the roof of the hotel, and fly away in a helicopter that will fit everything (big plot hole). The final team includes Marianne Peters (Tig Notaro), Lilly the Coyote (Nora Arnezeder), Burt Cummings (Theo Rossi), Mikey Guzman (Raùl Castillo), Chambers (Samantha Win) and Dieter (Matthias Schweighöfer), a German safecracker who provides many of the films best lines. They are also joined by Ward's daughter Kate (Ella Purnell), who has an agenda that will bring chaos on the team, and create an overly long subplot about her relationship with her dad. The final team member is Martin (Garret Dilahunt), one of Tanaka's men, who clearly has an agenda that will inevitably bring more chaos down on the team of zombie killers. Basically, death is certain, as there are hidden agendas, zombie tigers, and a group of super zombies who aren't fans of several decisions that are made.
This is a totally earnest observation that hopefully doesn't sound too pithy, but it would be neat to see a 100-minute cut of Army of the Dead. The 148-minute film could easily lose 48 minutes, as the screenplay by Snyder, Shay Hatten, and Joby Harold features unnecessary subplots (parental issues etc..) and meandering moments that put a halt to any momentum. This could've been a gnarly heist film, as the cast is game, and the idea of super zombies is fun, but, there are too many plot holes, and the fact that nobody was like "there's only one helicopter to carry 10+ people and thousands of pounds of cash?," isn't cool. 
The cinematography by Zack Snyder is a lot of fun, and the production design and costumes by Julie Berghoff (Saw, The Conjuring) and Stephanie Portnoy Porter (Sucker Punch, Batman v. Superman: Dawn of Justice) are excellent, as each character looks unique, and Las Vegas looks believably gross and barren. You can definitely see every cent of the large budget on the screen, and it's nice knowing that so much money was spent on a zombie heist film. 

Final Thoughts – Army of the Dead starts off hot, and cools off quickly. Check it out if you love zombie films, or are a Snyder completist.