The 2022 Mid-Year Random Awards! A Celebration of Our Favorite 2022 Movie Moments
July 1, 2022
The Mid-year Random Awards are back! 2022 has given us a plethora of fun movie moments and we had a great time coming up with random awards to celebrate them! 
If we missed any moments, please include them in the comments. Thanks!
Also, here are my 10 favorite (not best) films of 2022 so far.
Hustle
Moonfall
Everything Everywhere All at Once
Kimi
RRR
The Northman
The Lost City
Top Gun: Maverick
Ambulance
A Montana Story
Best Musical Moment Award- Cyrano – I gave Cyrano awards in 2021, but it felt right to honor it again. I love the song Someone to Say.
Best Thumb Drive Award – The Batman – Between Kimi and The Batman, Zoe Kravitz has been in some solid movies that feature thumb drives
One of My Most Favorite Movies Ever Award, Best Friendship Since Barb and Star Award, One vs Many Fight Award, and Music Award – RRR – Want to watch an extremely fun movie? Check out RRR
Best and Most Unfortunately Timed Fireworks Award – The Forgiven – John Michael McDonagh's dark comedy features some of the best fireworks of 2022. Why? They are incredibly poorly-timed.
Best Pirate Ship in a Cave Since the Goonies OR Best Flying Pirate Ship Since Stardust Award – Uncharted – Uncharted earned my undying respect when it featured a pirate ship in a cave that eventually becomes a flying pirate ship
Best Animated Cooking Scene Award – Turning Red – Not only does Turning Red featured the best fake band of 2022, it features the best animated cooking scene.
Best Training Montage Award – Hustle – Hustle is probably my favorite film of 2022 so far, and a big reason for that are the excellent training montages. Adam Sandler + sports movies = A good time.
Best Chapstick Eating Award – Everything Everywhere All at Once – EEAaO is a wildly inventive experience that features Ke Huy Quan eating some chapstick.
Best Excuse to Never be a Motorcycle Henchman Award – The Lost City – If you're looking for a fun movie that is loaded with laughs, treasure hunting and motorcycle henchmen falling to their deaths, look no further than The Lost City.
Best Chase Scene Involving a Jet Ski and Great White Shark Award – Shark Bait – Shark Bait features a great white shark chasing a jet ski. Life doesn't get any better.
Best Ugly Sonic Award – Chip N' Dale's Rescue Rangers – If you're looking for fun cameos look no further than Chip N' Dale's Rescue Rangers.
Best Chainsaw That was Built by Magicians Award- Texas Chainsaw Massacre – The latest Texas Chainsaw Massacre movie is not good. However, Leatherface's chainsaw is an unstoppable force that cuts through everything without ever catching, stopping or being halted in the least bit.
Best Villain Dancing Award – Fresh – Sebastian Stan carries on a long tradition of villains dancing in movies.
Best Gravity Wave and Best Drunk Patrick Wilson Award – Moonfall – Moonfall is a beautiful experience because not only does it feature gigantic gravity waves, it features a drunk (but still buff – think Jason Statham in the Meg) Patrick Wilson saving the day.
Best Usage of Foghat Award – Top Gun: Maverick – I'm telling you, Foghat makes everything better. The clip below isn't the moment, but I wanted to include something involving music.
Best Moment Involving Watching Someone Watch Someone Who is Watching Her Award – A lot of people get watched in The Watcher.
Best Zombie in a $200 Million Budgeted Movie Award- Doctor Strange in the Multiverse of Madness – I still can't believe that the folks at Marvel let Sam Raimi make such a Sam Raimi movie.
Best Iron Branding and Best Line of 2022 (So Far) Award – The Northman –  I love that Robert Eggers was given $70ish million to make The Northman. It's wonderful. My favorite line of 2022 is when Alexander Skarsgard says he wants revenge because there is a "freezing river of hate that runs through my veins."
Best Mom Talk Award- Cha Cha Real Smooth – Between Sh*thouse and Cha Cha Real Smooth, Cooper Raiff excels at having nice talks with his movie moms.
Most stressful 2 hrs and 16 min of 2022 so far (Also Best Sailing Sing Along) Award – I love Ambulance. It's wonderful, insane and I have a hard time believing Michael Bay shot it in 30ish days.
Best Kissing Scene Award – Jackass Forever – Watching a snake bite a guy named Poopies in his face has really stuck with me.
Best Overhead Shot of an Alligator Stalking a Person in a Gross Lake Award – X – X features the best overhead shot of an alligator swimming since Crawl.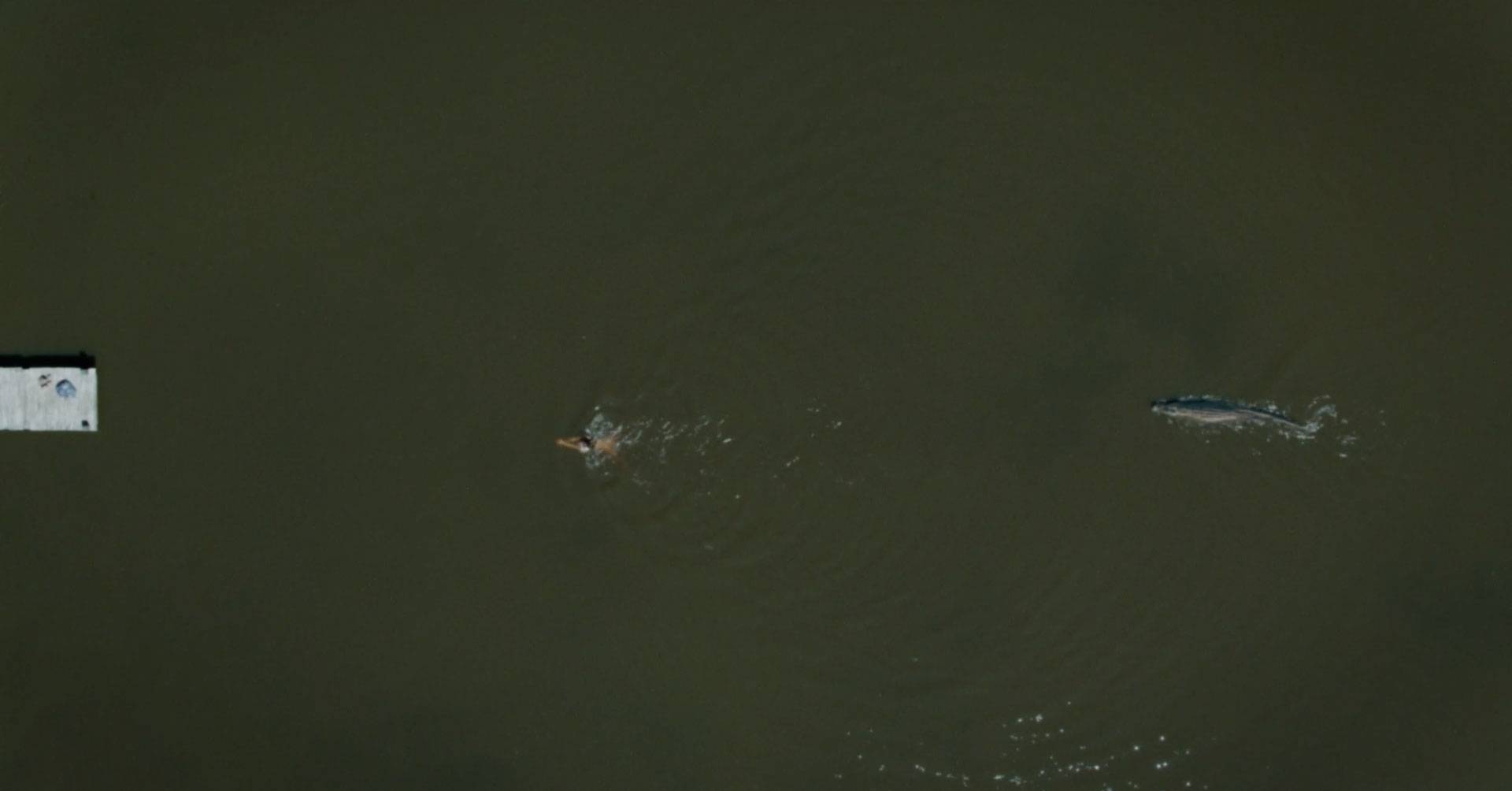 Best Chic Looking Hoodie Award – Morbius – Jared Leto would never wear a regular hoodie. In Morbius he wears a super stylish looking hoodie.
Best Hangout session in Spiderhead Award -, Chris Hemworths and Miles Teller are hanging out and Hemsworth says "Jeff and Steve, Steve and Jeff, just hanging out." It's wonderful. The movie isn't good, but I like the moment a lot.
Best Pastry Suitcase Award – And Cutest Looking Deadly Beasts Award – Fantastic Beasts: The Secrets of Dumbledore – I love the baby manticores in the latest Fantastic Beasts movie.
Best Remake Featuring Andy Garcia Award – Father of the Bride – Andy Garcia is really good in the Father of the Bride remake.
Zanadi Botes (@ZaNandi on Twitter) – Best Friendship – The Unbearable Weight of Massive Talent – Nicolas Cage and Pedro Pascal are a fun team in Cage's latest film.
Jonny Numb (The Last Knock Podcast – @JonnyNumb on Twitter)
The Cat Comes Back! Award – Moonfall
The Tunnel Echo Scene in Men.
David (The Award Wieners Movie Review Podcast – @ItsMeDavidCross on Twitter)
Best Use of Hot Dogs in a Movie – Everything Everywhere All at Once
Best Dance Sequence: – X
Best Cameo by My Childhood – Chip and Dale's Rescue Rangers
Most Quotable Movie- Moonfall
Aaron Neuwirth (Out Now With Aaron and Abe Podcast – @AaronsPS4 on Twitter)
Best Use of Ground Pound as Survival Signal – RRR
Best Usage of a Flag – RRR
Best Drum Solo – RRR
Best Musical Torture Scene – RRR
Best Rock Fight – RRR
Best Tiger Throw – RRR
The Last Action Heroes Podcast (@TL_ActionHeroes on Twitter – Listen to their show!)
Best Loud Vehicle – The Batman – My award for most charismatic hunk of metal goes to the snarling Batmobile. The threatening growls and fire-spitting from the darkness before it lunges into a full assault of screaming, rampaging aggression. I honestly laughed out loud like a giddy child at that scene. 5/5
Best Hair – The Northman – The Northman is a hairy film. Long, beautiful hair. Badly cut hair. Various colors of hair. Head hair. Face hair. Body hair. At one point I think there was even a hare. Even if you don't like bloodthirsty folk-lore tales of revenge and vikings, go for the hair.
Joey Lewandowski (The 2 Fast 2 Forever Podcast – @soulpopped on Twitter)
"Take My Hand" plays in Top Gun: Maverick
After Yang's opening credits
The Worst Person in the World freezes time
"Kimi, play Sabotage" – Kimi
"Church" in Marry Me
Mustache origin story in Death on the Nile
"F**K THE MOON" in Moonfall
John Leavengood (@MFFHorrorCorner on Twitter) – The Most Convincingly Ungratuitous Use of a Butt Plug Award." aka "The Least comfortable Kung Fu Ever Award." – Everything Everywhere All at Once