47 Meters Down: Uncaged – A Fun Movie That Features Some Great Sharks
December 9, 2019
Are you looking for a movie that features scuba divers (and other unlucky red shirts) being devoured by gigantic blind sharks? Well, you're in luck, because 47 Meters Down: Uncaged features some really cool sharks (who can teleport?) hunting down scuba divers who are stuck in an underwater cave system in Mexico. It's a worthy follow up to 47 Meters Down, and even though it isn't as mean, I still enjoyed the shark carnage and claustrophobia.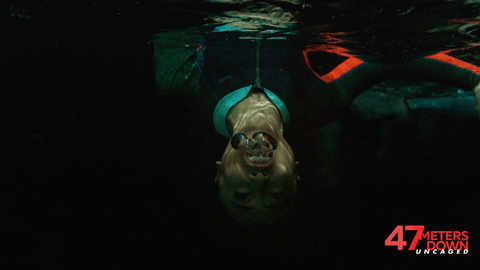 47 Meters Down: Uncaged tells the story of four teenagers sneaking into an underwater Mayan city that archaeologists are studying. It's a brilliant idea by returning director/writer Johannes Roberts (47 Meters Down, Strangers: Prey at Night) to trap his protagonists inside a cave system, because the small tunnels and sacrificial chambers create a claustrophobic vibe, and leaves the victims with very few hiding places. Things quickly go awry, and the unlucky scuba divers find themselves trapped inside the cave system with several badass sharks – and very little oxygen. Mia (Sophie Nelisse), Sasha (Corinne Foxx), Alexa (Brianne Tju) and Nicole (Sistine Stallone), are the eventual shark fodder, and despite them never having a chance to become actual three-dimensional characters, the actresses do a solid job yelling "swim," fighting off shark attacks, and yelling "swim" again.
The reason I wanted to write this review is because of the sharks. If you read MFF, you'll know that I love shark movies and write or podcast about them whenever I can (here, here, here, here). I'm a big fan of the first 47 Meters Down because it's so mean (the end is a gut punch) and features one of my favorite horror moments of this decade (the flare scene!).
The sharks in 47 Meters Down: Uncaged seem ancient, and their bodies are covered in scars, which makes them look super badass. I have no clue how many there are (2? 3? 4?), but, I love how they are lumbering giants who are always in the right place at the right time. There are moments in the film when I'm pretty sure they teleport, which doesn't bother me because teleporting sharks sound horrifying (think Jumper meets Jaws). After The Shallows, The Reef, Bait 3D, The Meg, Deep Blue Sea, Open Water and Sharks in Sweden, I love that new spins can be put on comically large and violent movie sharks.
If you like shark movies, you will really enjoy 47 Meters Down: Uncaged. I totally you recommend you watch it for the super mean sharks.