MFF Data: A Totally Unnecessary Look at How Much Damage King Orm's Tidal Waves Caused in Aquaman
April 8, 2020
Quick note: This obsessive data analysis about a throwaway scene in Aquaman that is quickly forgotten, is not meant as a knock on Aquaman. I love that a scene involving trillions of dollars of property damage and billions of pounds of trash being dumped back on the world's shores is like the 45th craziest thing in the movie.
Aquaman is an insane film that features Dolph Lundgren riding a seahorse, casual destruction of wine shops, anti-climatic final fights, and a gigantic creature killing the absolute ever-living sh*t out of unsuspecting crab monsters. It's a bombastic spectacle that made enough money to sink a boat ($1.1 billion) and has a respectable 65% Tomatometer score.
It's almost been two years since I watched Aquaman for the first time, and I still can't shake how I felt during a three-minute scene in which the villainous King Orm (Patrick Wilson) sends land-dwellers a warning shot by unleashing massive waves that send billions of pounds of trash, hundreds (or thousands) of the earth's warships, and countless thousands of boats back onto the shores. It's a doozy of a warning shot (and a great trailer moment) that undoubtedly killed thousands, destroyed hundreds of miles of natural habits (how many turtle eggs were destroyed?), and did far more damage than anything that happens in Man of Steel (fun podcast episode about the final fight here), or The Avengers. Also, I'm pretty sure it made Dwayne Johnson jealous that San Andreas only caused around $10 trillion in damage.
Why has it been on my mind for so long? I think it's because nobody on the planet seemed to care or remember the insane moment of destruction. Which makes sense, considering that like 10 minutes after the killer waves we see a gigantic octopus playing gigantic drums.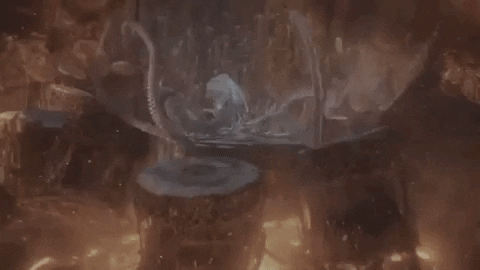 Take a look at the clip below, and you'll understand just how much decimation is caused by Orm's wave.
In the film, the news reports say that the ENTIRE Atlantic coast is hit by gigantic waves. Here's a map for reference.
Here's a collage of the aftermath of the wave. Since these waves happened in North America, South America and Europe, I'm assuming no area of the coast was safe from the waves and floods.
I'll never be able to correctly guess the amount of damage (I wish I could), however, it's safe to assume the waves caused trillions of dollars of damage. The following data backs up my assumption and proves that a scene that nobody remembers was incredibly deadly (and somehow totally forgettable) .
I'm assuming all the waves are similar to what hit Aquaman and his dad.
I don't think the waves are sophisticated enough to pick and choose which boats got wrecked. That would be bonkers……or, it would be really on brand for Aquaman.
I found a visualization of all the ships (tankers, cruises, shipping boats, fishing boats) in the ocean right now. I think many of the ships became collateral damage which would add a lot to the destruction total considering cruise ships can cost $555 million.
According to several very handy articles, I learned the world has roughly 4,500 very expensive warships that include aircraft carriers (which are home to very expensive airplanes and weaponry), submarines, corvettes, destroyers, cruisers, amphibious craft and tankers. I don't think all of them were destroyed, however, I'll bet a healthy amount of them were wrecked.

In the clip I included above, I counted (at least) 51 warships that were pushed onto the land (I have no clue how many sunk). At the very least, the damage to the 51 ships, and nothing else, is around $150 billion (the submarines and aircraft carriers would take up $23 billion of that). Also, what happened to the all the planes that are typically on an aircraft carrier? They must be in the water somewhere, which means dozens of planes that cost at least $15 million (with weapons costs not included) are on the bottom of the ocean.
Towing or transporting massive ships can cost up to $8 million dollars. So, just imagine moving the 51 ships (that we see) and all the others that are damaged or sunk.
The waves that hit land must've destroyed thousands of docked boats, and flooded thousands of homes and businesses. Through some fun research I've learned that waterfront properties cost 46% more than inland properties. So, the expensive condos, homes, businesses, parks, roads, and anything in the vicinity of the waves and battleships suffered massive damage.
Some of the most expensive homes in the world are located on the Atlantic ocean. If any of them are hit, the total goes way up.
The massive tsunamis that hit Japan in 2011 caused close to $309 billion in damage (earthquake destruction is included), and Hurricane Katrina had an economic impact of $250 billion. If coastal cities were hit all along the Atlantic, just imagine the damage.
It's very possible that New York City, Sao Paulo, Lagos, Buenos Aires, Boston, Miami and dozens of other major cities. Also, imagine if Orm blasted the Gulf of Mexico cites. That's easily trillions of dollars in damage.
The amount of "dirty water" left after a tsunami or tidal wave can cause massive health issues. The floodwater carries oil and contaminated water to wells and other areas and leads to infections, cholera and health issues. The clean up around the world would cost billions.
Orm should be annoyed at the billions of pounds of trash dumped into the ocean. However, his waves killed a whole lot of ocean life. Dude is a jerk.
There are many Atlantic Ocean seaports in the United States and Africa. The destruction would be Huge. Ports can cost up to $7 billion dollars.
Conclusion – I'm hoping that all of this research showcases just how much damage was done after the insanely damaging warning shot. All of it is totally unnecessary, however, I learned a lot while researching this data, so I'll take it as a win. In the end, Aquaman is an insane movie that can inflict trillions of dollars in property damage, and then quickly forget about it, that makes me happy.
If you like this random data, make sure to check out my other data posts! Also, check out the Movies, Films and Flix podcast, we just started a new series called Final Fights, it's about epic final fights in movies. Listen wherever you listen to podcasts.